~ blttogo ~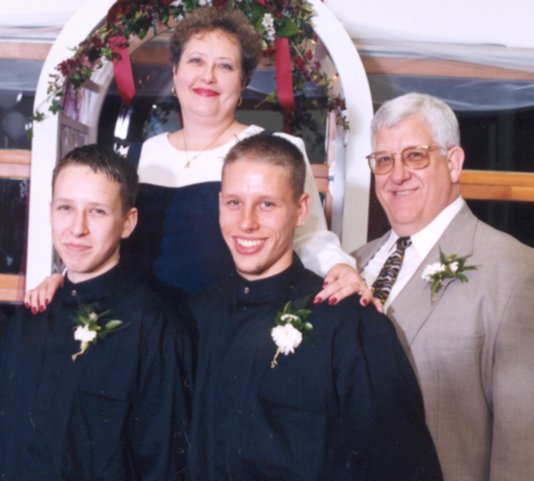 I was born in a little farm house on a hot August day in a small town in Nebraska.
(Oh, sounds like an opening to a Willa Cather novel.) I was the last of 4 children born
to a policeman (my maiden name is Crook - yes you read it correctly, a policeman
named Crook) and a grocery clerk. I had a very active childhood. My Mom said I
never walked anywhere - I was always dancing, skipping, hopping, cheerleading,
and just plan be-bopping around. I played the trumpet in the band and was
head drum major in the marching band. Music was my life in high school.
My biggest regret in NOT keeping up with my music and playing. I truly miss
that kind of fellowship I developed with my musician friends.
After high school, I moved to Denver, Colorado where I worked, met my
husband, Deane and married him. I actually proposed to him.
We have now been married just over 26 years.
We have two boys (as you can see in the picture) Erik is 21 and still lives at home.
Works at the airport at a cargo company. He is very artistic and hopes to eventually
return to some sort of art field. I can see him working for Spielberg someday. He is
toooo busy to have a steady girlfriend. My youngest is Ed, 17 and a junior at our
local high school. He is participating in wrestling and takes 2 classes at
our local junior college.
The summer of 99 the whole family took a cruise to the Mexican Riviera.
We had a blast. It was our 25th anniversary present to each other.
Now more about Betty - I am very active in my local high school PTA. Have been
involved in PTAs for about 15 years. Also involved in our Council PTA (council oversees
34 local PTAs) as well as the Membership Chair for the state PTA.
We have lived in Washington now for almost 20 years. We moved here when my
husband went to work for Boeing. We left our families in the mid-west and came out
west. We love it here now (except for sometimes the rain)
I love to play real bingo with "BeesBuddy" and "BumbleBee".
I love to do various crafts, tole painting, cross stitch, and reading when I have time.
Betty (alias blttogo)
"BLTTOGO" is also my license plate - as I am always on the go!!