~ Tiny1 ~


Hi, I'm "Tiny1"
and my name is Cheryl.
I was born October 16, 1956
and I am 44 years young.
I am from Nova Scotia, Canada and
live in a small fishing village outside of Dartmouth.
My boyfriend and I have 11 beautiful grandchildren.
The big boy you see me with is my son, Christopher.
He is 24 years young and has 2 girls aged 2 & 1
and a newborn boy age 2 ½ months.
They are the joy of my life.
The other 8 grandchildren are my boyfriends.
Here is a picture of my son's children.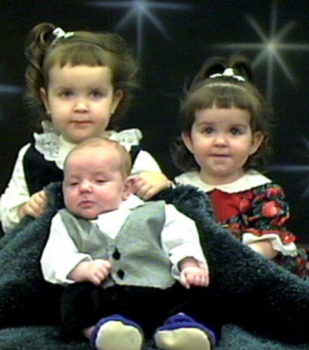 I like to knit and do crafts.
I am a strong Alwaysfreebingo player
from the "Hang Loose Room"
and I have met some of the
greatest people there ~ CannyCat,
Aardvark, Mary and so many others
from all over the map.