~ Myriah ~
Hi ... I am Myriah!
I know you were expecting to see "Aardvark",
but Mom has been very busy lately and has not
had a chance to put up her page yet.
(She always has an excuse!!)
As most of you know, I am her daughter. I am
9 years old and in the 4th grade. My birthday
is August 9th, 1991.
We live in Somerville, New Jersey. But, we have
lived in New Hampshire, Ohio, Kansas,
Texas and Colorado, too.
(Mom says we are staying here for good!)
I like music and art
a lot more than I like math and english.
But, they are okay, too.
When I am not bugging my mom to use the
computer, I like to draw, color, play with my
barbie dolls and my play station.
I have 2 cats, "PK" and "Felix" and I have
one puppy. He is a Jack Russell Terrior and
his name is "Oscar". He is a very smart dog.
Well, I had better get off her computer
before she catches me here.
(Don't tell her, but I am supposed to be doing my homework!)
Have fun playing Bingo!!
~ Myriah ~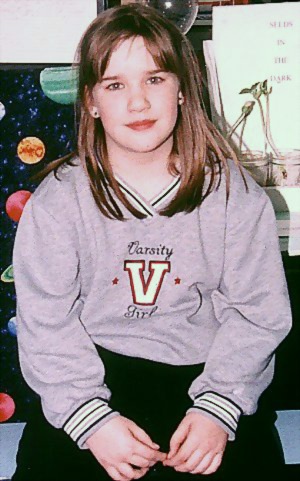 Click on the snow-globe to get back to
the Nick List Page!